I bought this foundation brush after reading My Women Stuff, in which the author, Paris B, raved about it.
So is this really worth the money?
Note: I will start with a review of the Shisedo Perfect Foundation Brush, then move on to compare it with the Sonia Kashuk Flat Top Kabuki Brush.
Shisedo Perfect Foundation Brush
Available: Shisedo counters, $40.
Volume: 1 brush.
Star Properties:
Foundation fits seamlessly against skin. This brush easily creates a perfect natural finish with great coverage.
It works well with any type of foundation, emulsion or powder.
Avoid applying water resistant foundation with this brush.
Packaging
For brushes, this is a very well-packaged one, that comes in a clear plastic box printed with Shisedo logo and some descriptions.
I have bought counter-brand brushes that come in just the flimsy plastic sleeve before, so the Shisedo one is definitely considered good.
Nevertheless, I wish they could save on packaging, because I simply don't keep my brushes back in their packaging once I start using them.
Size - Length and Area of Bristles
This is really small. For those of you who have the MacBook, you can see that it really is only slightly longer than the length of the mouse/track pad.
Surprisingly, its short length is a plus point because it allows you greater control of the brush, and increases the precision of foundation application.
Coupled with the tiny area of the bristles (picture below), this Shisedo Perfect Foundation Brush really puts the base/foundation exactly where you want it, and concentrate it a lot on that particular area.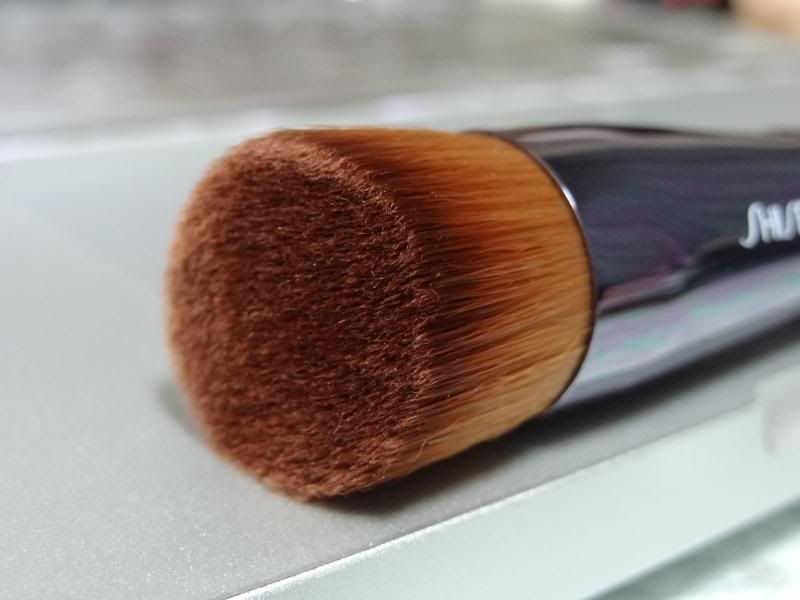 Tiny area of bristles.
I find that the small-ness of it helps me because I tend to spread out my base very evenly all over my face using a big fluffy brush or my fingers, and this creates a lack of depth on the face. With a tiny brush, I easily concentrate my base on the V-triangle right under my eyes, and around my mouth. This way, the large cheek area, and sides of the face actually minimal amount of base. The forehead also gets a thinner layer of base, compared to the under eye. So overall, my whole face look more contoured, and much, much more natural.
Bristles Density and Foundation Coverage
As can be seen in the photo below, this brush is very dense.
Compared to the
Sigma F80 Flat Top Kabuki
, the Shisedo Perfect Foundation Brush is denser, but gives a slightly lighter coverage because of its smaller area. Somehow, I find that the Sigma F80 gives me heavy coverage, but all my other brushes do not, including this one.
For the same foundation (I tested using Urban Decay Naked Skin Foundation for Sigma and Shisedo brushes), and same amount of foundation used and concentrated on the under eye, the Shisedo Perfect gives a medium coverage.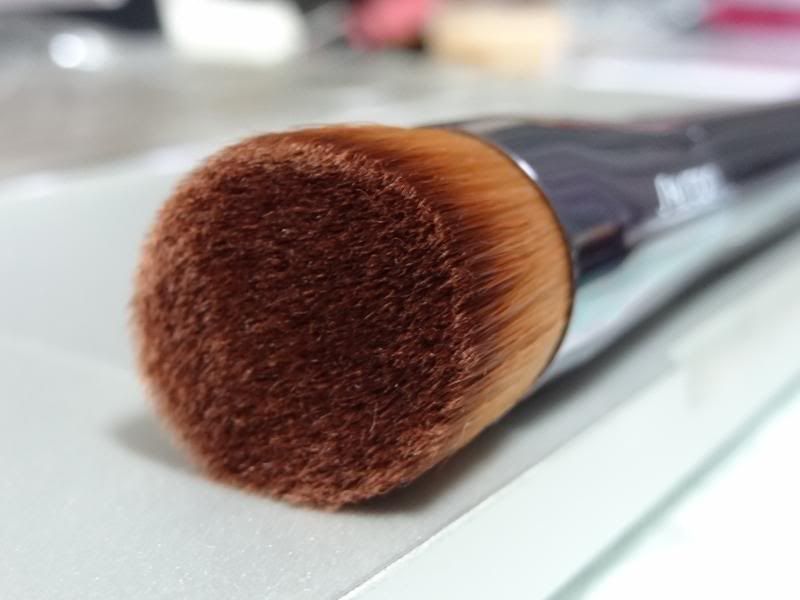 Density of bristles.
I am liking the medium coverage because I am simply not used to wearing a thick layer of makeup. I try to sheer out everything as much as I possibly can, without looking patchy.
Rating for Shisedo Perfect is

5.5/5!
It does more than expected, and lives beyond the claims. My face look flawlessly natural, after a luxurious application process.
Comparison with Sonia Kashuk Flat Top Kabuki Brush
Below, I compare the Shisedo Perfect Foundation Brush to the
Sonia Kashuk Flat Top Kabuki Brush
, because I find that the both of them are the most similar, from my stash of brushes. This is because they are both rather small, in terms of length and area of bristles.
Also, I want to come out with a verdict if the Shisedo Perfection Foundation Brush is really worth the money, or if it actually can be replaced with something more affordable like the Sonia Kashuk. The Sonia Kashuk has received a lot of raves on Youtube, so this is a fair comparison.
You may have seen a snippet of what I am going to say before if you have read my Sonia Kashuk post some time ago. But I will go ahead and talk about the two brushes briefly.
Shisedo Perfect has shorter bristles, that are much more densely packed than Sonia Kashuk.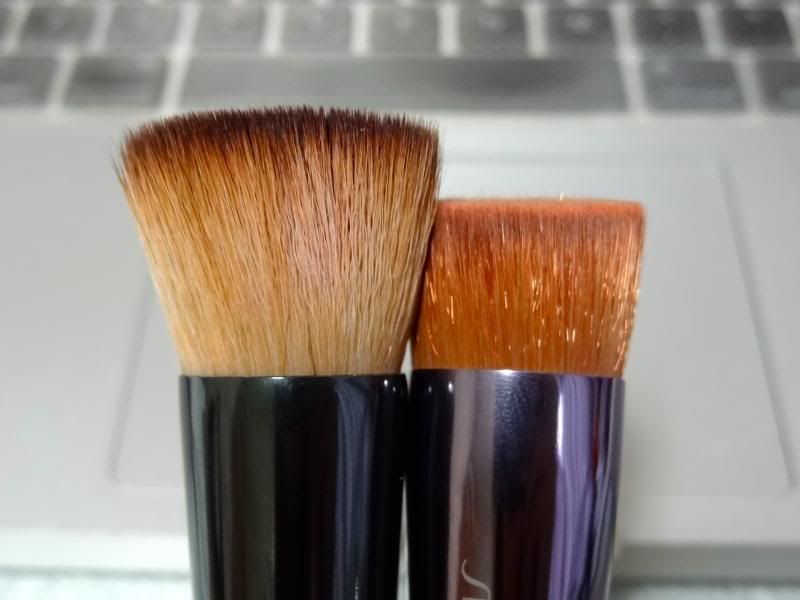 Left: Sonia Kashuk Flat Top Kabuki. Right: Shisedo Perfection Foundation Brush.
Due to the short bristles, the Shisedo Perfect brush does not splay out much at all, while the Sonia Kashuk brush will open up more and more as you use it. It does close up when washed and dried.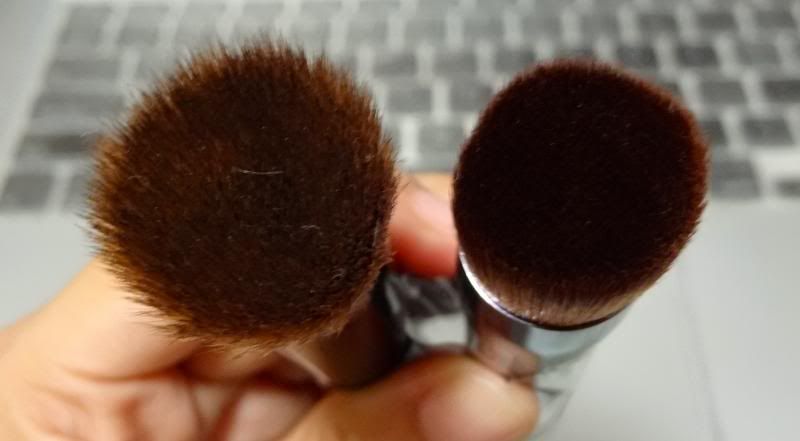 Left: Sonia Kashuk Flat Top Kabuki. Right: Shisedo Perfection Foundation Brush.
The Shisedo Perfect has softer bristles.
However, when it comes to application, the coverage and finish is actually so similar, you will not detect the difference if I do half my face with Shisedo, and half with Sonia Kashuk.
For me, the real difference lies in the luxury, as my face does feel less poked when I use Shisedo.
Effect is pretty much the same. Shisedo does feel slightly softer on skin.
Do you own any of these two brushes? What do you say? Do you happen to have the Dior Flat Top Kabuki? How is that compared to these?