Happy Chinese New Year! Gong Xi Fa Cai!
I miss all of you, readers, and I hope you have been doing well in this new year of 2013!
In this post, I come to you with a review of the Illamasqua Powder Blush Duo that I have been diligently testing for the past couple of months. This is another rave post that I have wanting to share for a long while, but could not find the time off work to do so. But today, I am wearing this blush for Chinese New Year visiting, so I decided to quickly take the photos and post it, while I still have my holidays.
Enjoy!
Illamasqua Powder Blush Duo in Lover and Hussy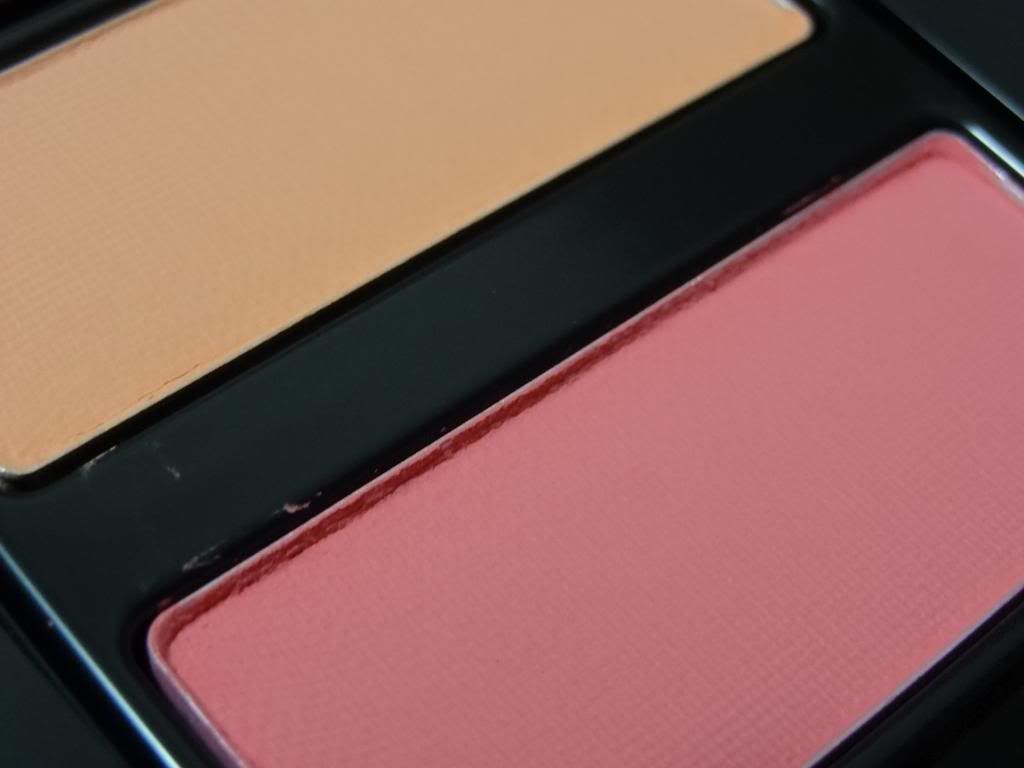 Available: Illamasqua.com, 26 pounds.
Volume: 2 x 2g.
Star Properties:
Featuring two beautiful matt Powder Blusher shades, Lover (Soft apricot) and Hussy (Candy Pink), the new Powder Blusher Duo, a first for Illamasqua, comes in a gorgeous compact with a mirror. Illamasqua Powder Blushers are highly pigmented, use them to shade, brighten, enhance and contour. Be bold; be daring and most importantly be the center of attention this party season. (Illamasqua website, 2013).
Packaging
The Illamasqua Blush Duo comes in a square black cardboard box that look almost identical to
the one that holds their eyeshadow quad
.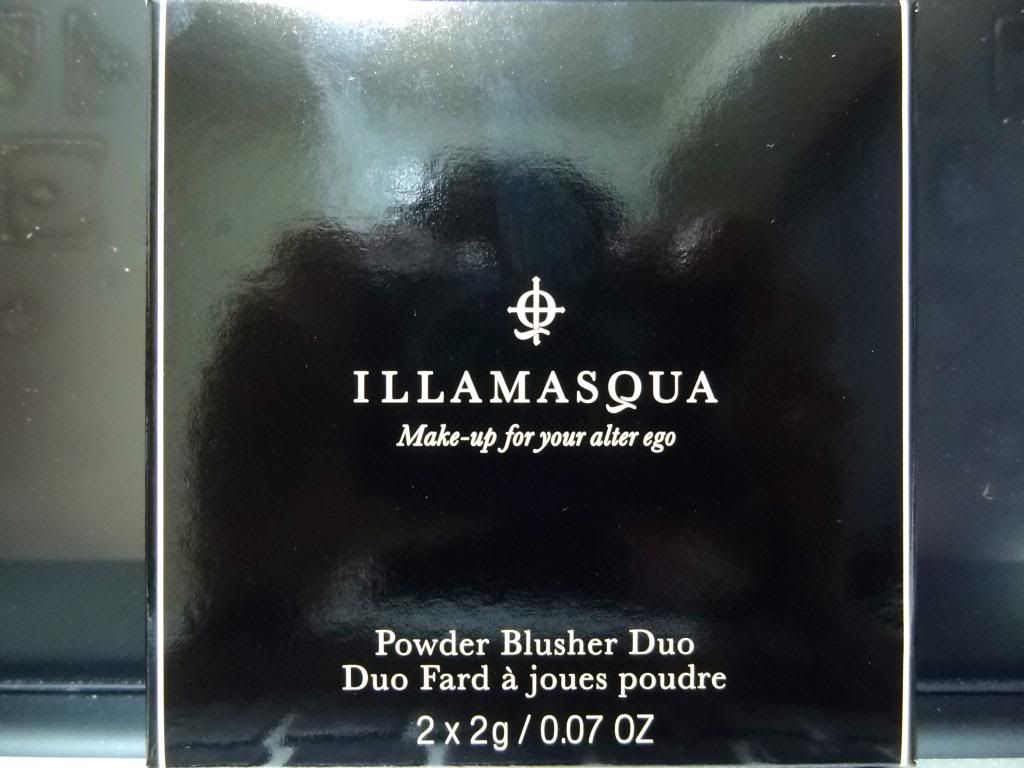 The ingredients list is printed on the back of the box. Those allergic to talc and mica may like to take note, and test this blush on the neck first.
In the past, some blushes with high mica content have irritated my skin before, but this Illamasqua blush is so far so good on me.
The actual compact is black and glossy, exactly like the eye quad, with the Illamasqua logo embossed on top, Illamasqua word printed on the opening cache. It also comes in the signature indented diamond shape that Illamasqua boasts. In my honest opinion, I think this black plastic is very cheap feeling, although it looks good.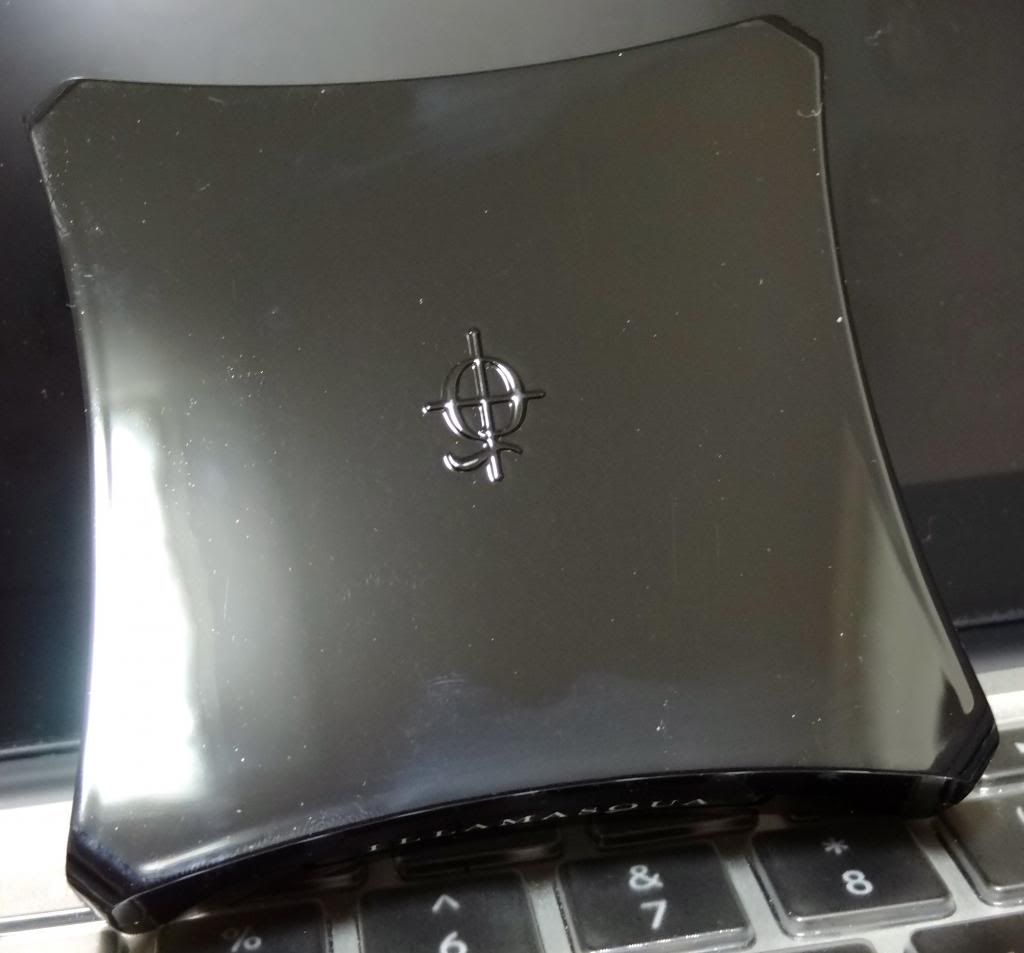 The names of the colours are printed on the back of the compact, for easy reference.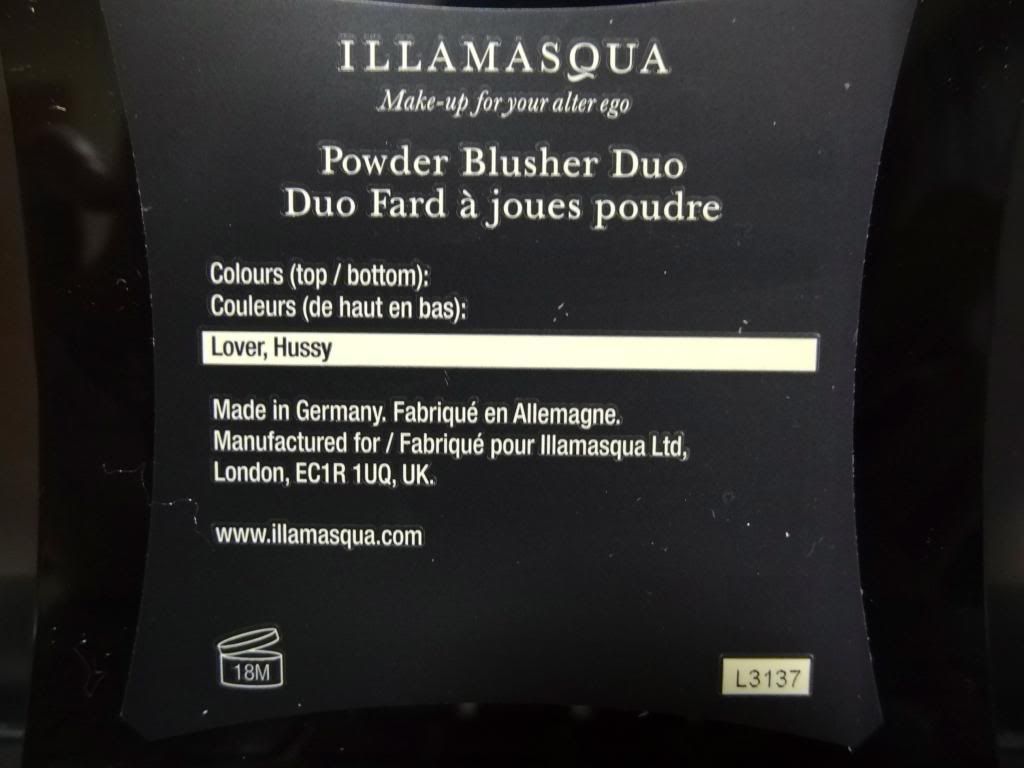 Colour
So the peach colour on top is Lover, and the pink below is Hussy.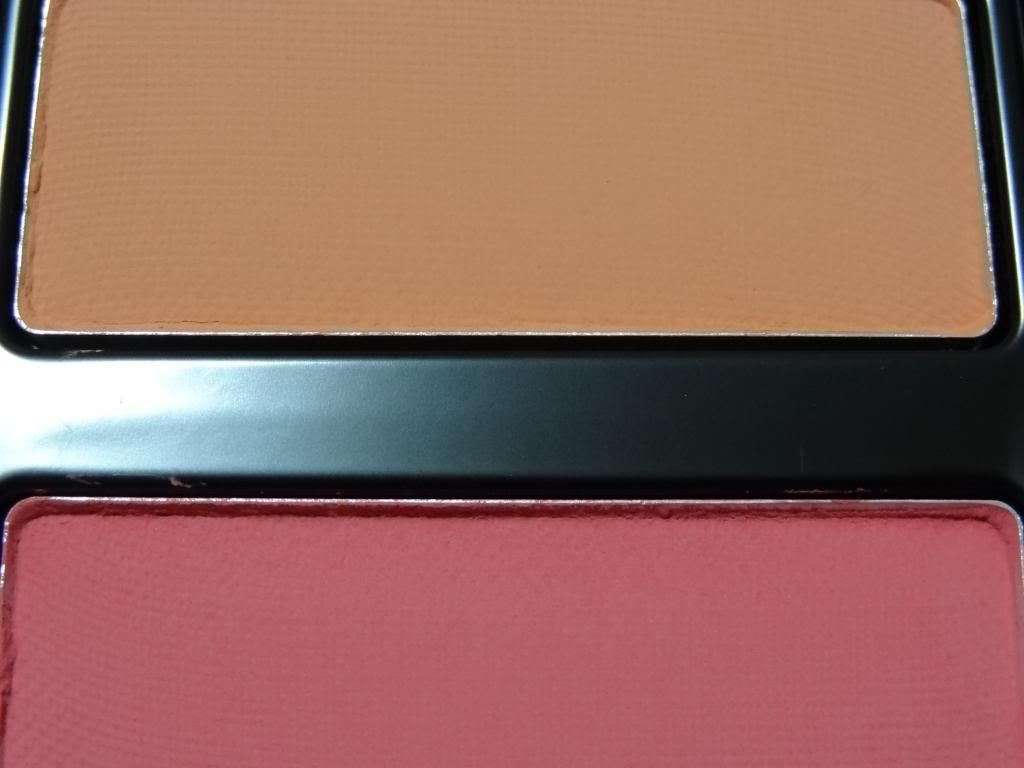 Swatches
I have first swatched Lover and Hussy only.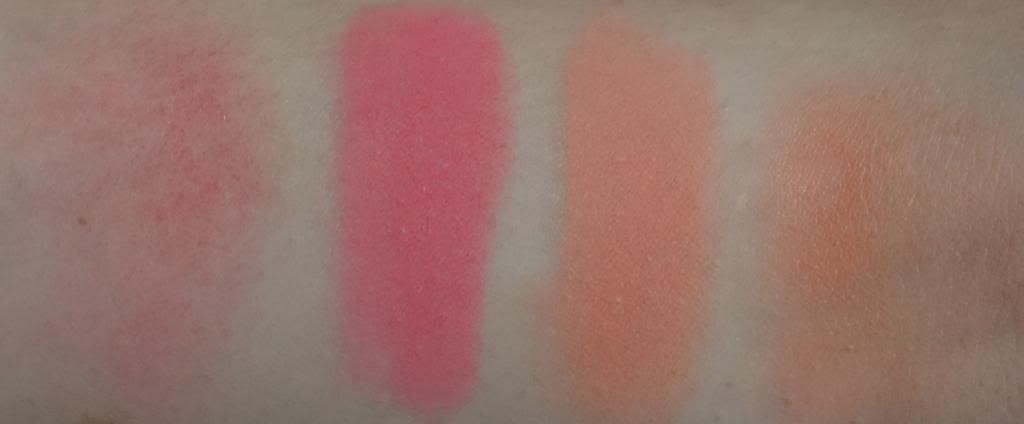 From left, Hussy blended, Hussy, Lover, Lover blended.
Next, I swatched both Lover and Hussy, and I compared them both with a few other blushes that I currently use in rotation.
From left: Illamasqua Lover, NARS Gina, Chanel Spring Collection 2013 No. 17 Candy blush, NARS Deep Throat, and Illamasqua Hussy.
Illamasqua Lover is definitely far more apricot than my other blushes. I don't have anything like that in my stash.
Whereas, NARS Gina leans more to the russet type of colour, apricot tones, but with that brownish tinge.
No. 17 Candy from Chanel Spring Collection 2013 is the paler and more sparse version of NARS Deep Throat, although it leans just that teeny beeny bit apricot, as compared to Deep Throat that is more pink.
NARS Deep Throat looks like a straight up carnation pink here, when compared to blushes that are more apricot. Normally, Deep Throat gives me more peachy feelings than pink, and I have always considered Deep Throat to be a mainly peach blush.
Last but not least, Illamasqua Hussy is just pink. Undoubtedly pink.
The photo below is exactly the same as that above, except that the swatch all the way on the left is what you see when you mix equal proportions of Lover and Hussy. The result is a rosy pink with apricot undertones, that is extremely flattering on my face, in my humble opinion. =P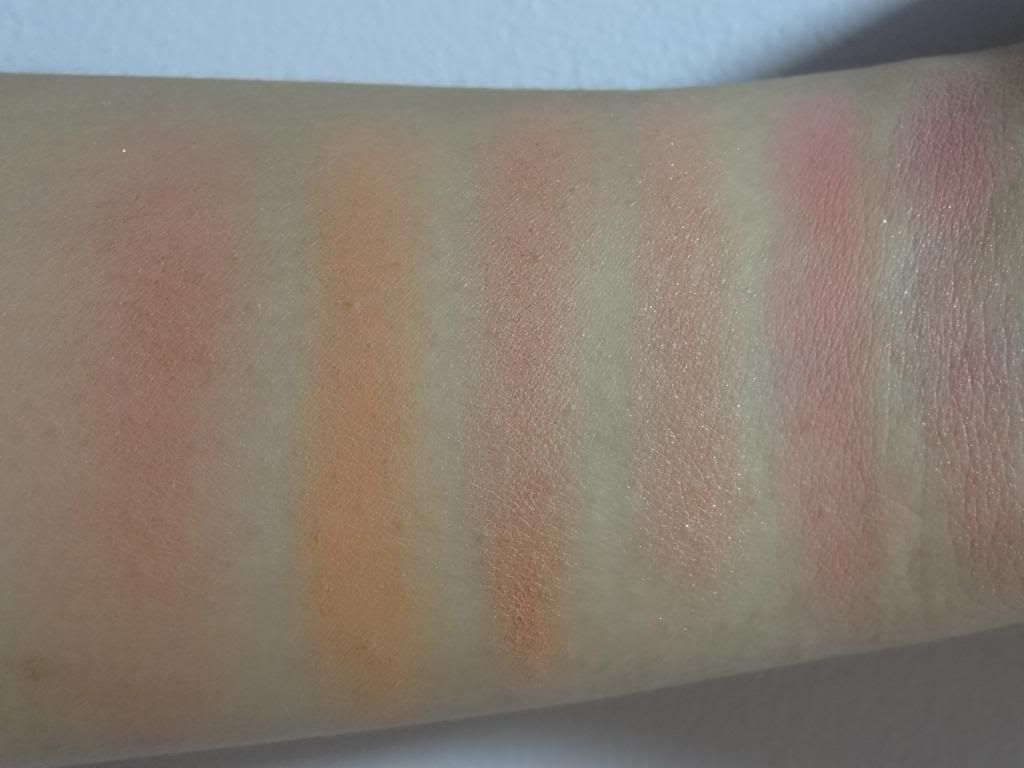 Texture
You can be assured that Illamasqua lives up to its name of quality, because the blushes are incredibly soft, smooth, and fine, and not dry at all.
Finish
Both Lover and Hussy are extremely matte, in my opinion. And I am slightly uncomfortable with using it because I am very used to, and very fond of blushes with a sheen, satin matte finish, and even with super light glitter. I am much more comfortable applying that sparkly Chanel No. 17 Candy, and NARS Deep Throat, than matte blushes.
In the photo below, you can see the finish of this blush on my cheek.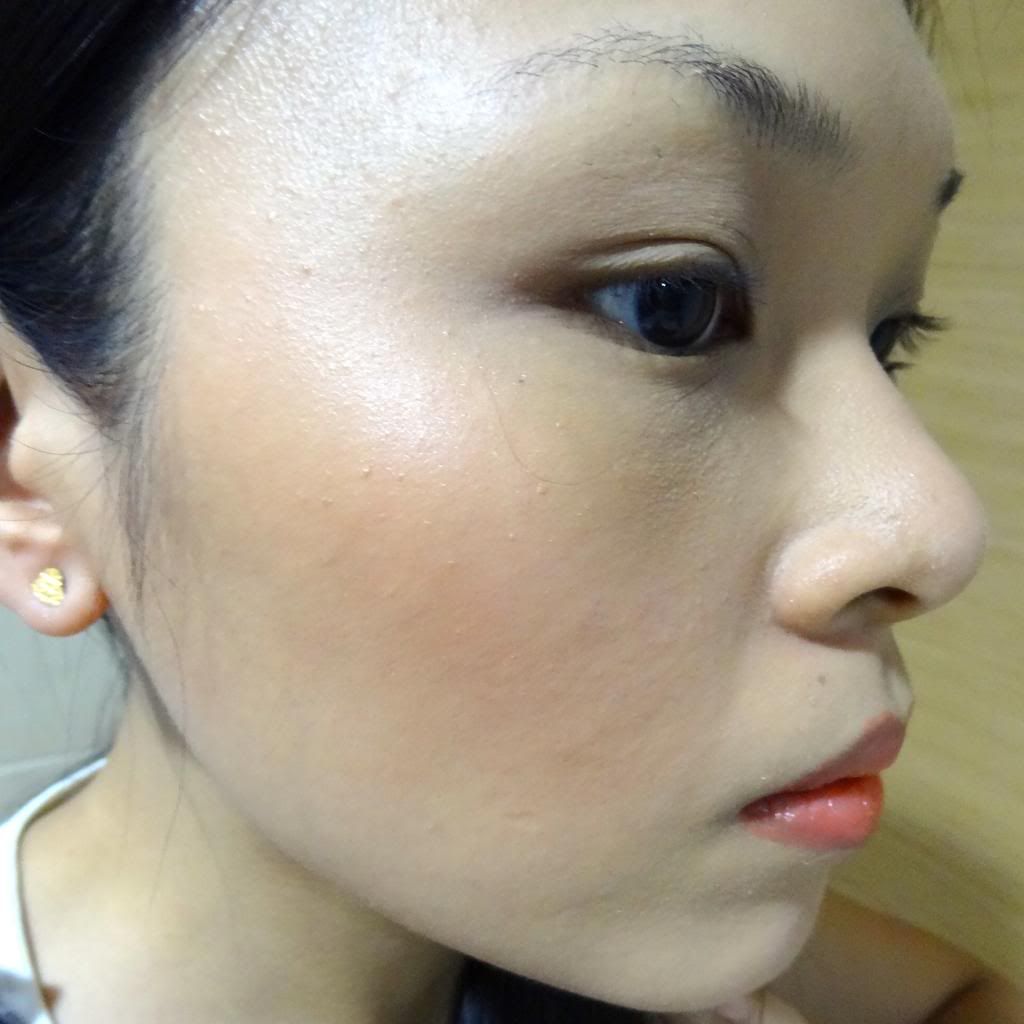 I am so stunned and in love with this!
The first time I ever used this blush, I was so impressed that it can give that there-but-not-there look on my face, as though all the red just barely seeped through my skin, onto the face.
At that time, I forgot about my blush rotation routine, and kept on using this compact for 3 weeks straight.
Match
What makes me more glad that ever is that this blush fits my warm undertone! I don't expect blushes to fit warm undertones well because most of the pinks just don't fit yellow skin from my experience, and I personally don't like brownish blushes.
So yes, I am overjoyed to have trusted, took the plunge, and found Illamasqua!
I am going to give this a big fat
5/5!
The only con is that this is matte. But it's such a small and tiny thing that it doesn't matters to me, because it just looks that great, be it matte, or with shine.
Definitely not a must. But if you do order from the Illamasqua website, because they provide free shipping sometimes, feel free to get Love and Hussy, and I don't think you'll be disappointed.