Better late than never to blog about this! Those of you who have followed Positively Nice way back, or flipped my archives, would know that I first got hold of Maybelline Colour Sensational Lipsticks almost a year ago in February 2012.
I raved about finding a suitable nude that doesn't make me look like an ashy zombie, in the form of the Colour Sensational in
Crazy for Coffee
.
Two months later in April 2012, I got hold of
Revival Red
, and featured it in a LOTD that was inspired by a Cleo advertisement. It was the first time I really wore red. Ever.
Now that I've got six Maybelline Colour Sensational, it feels imperative that I must blog about this, especially since Maybelline has recently upgraded their Colour Sensational collection to include glosses, which have not yet reached my country.
Nevertheless, here are my six lipsticks!
Some kind of awesome when you have enough to line them up.
Opened!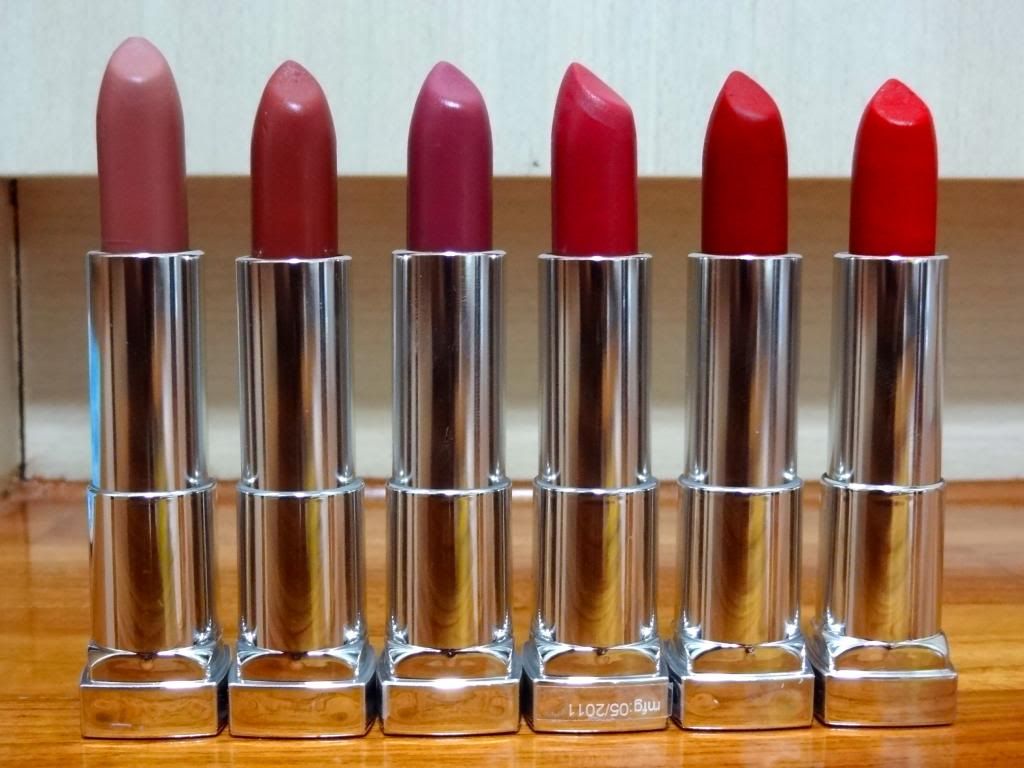 Don't ask me why the first one is taller. Lol. I turned all of them out right up till their plastic holder.
Names, everyone!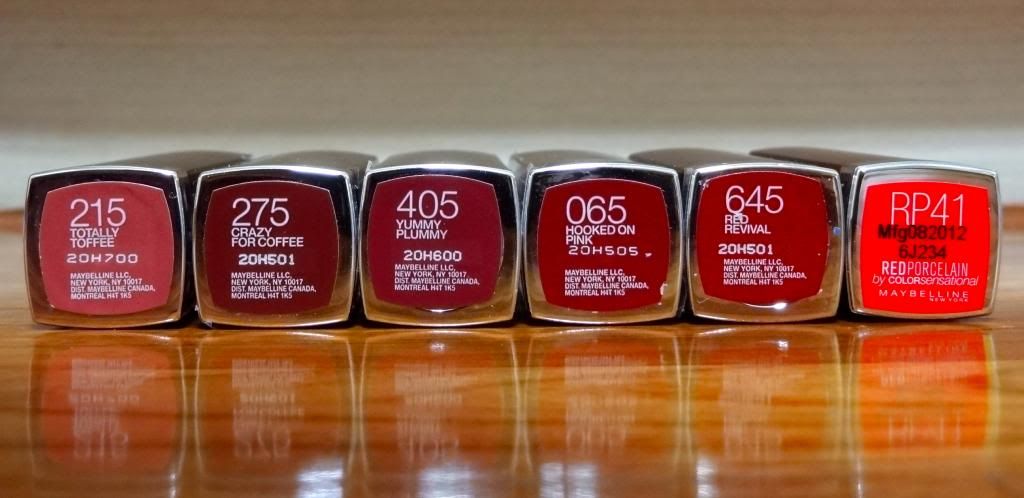 See the reflection in my parquet? I didn't know my flooring is so glossy.
And swatches. All colours seen are with one swipe, and zero computer retouches, except cropping.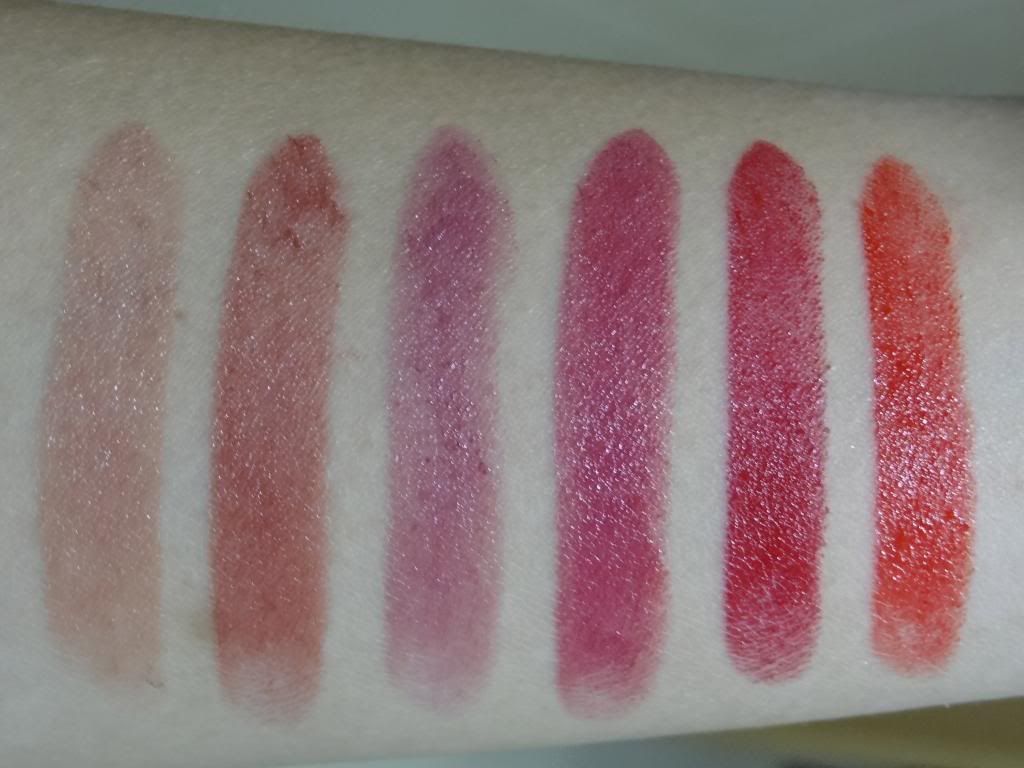 From left to right: 215 Totally Toffee, 275 Crazy for Coffee, 405 Yummy Plummy, 065 Hooked on Pink, 645 Red Revival, RP41 Red Porcelain.
Packaging
I crazy love the packaging. I've said before that I prefer this translucent sleek cut design to Revlon Lip Butter quilted almost opaque cases. I just think this looks slight more high class, because it reminds of diamonds.
In fact at one point in time, Maybelline rebranded the Colour Sensational line into Dazzling Diamond collection just to attract people into buying. With so few raves about this, it is no wonder the Colour Sensational line is losing to rivals' lip products.
Love how they colour code by changing the colour of the cases, brown for nude, purple for plums, pink for pinks, and red for reds.
Ingredients
Surprisingly wonderful for a drugstore lipstick. I was expecting lots of standard chemicals, but no. This has more oils.
Quality
I stand by my review in from Crazy for Coffee in February 2012. All six Maybelline Colour Sensational lipsticks that I've got are creamy, glide like a dream, and moisturising. They are long-lasting, very pigmented. And this line offers colours that are bold and rich.
Colours
I highly recommend checking out the nude and red ones if you are warm medium like me, because the colours are very well made. Even if you're not warm medium, I am quite sure the nude and red collection will have a perfect colour for everyone, whether you're fair or tanned, with pink or yellow undertones, or are neutral.
I am not so sure about the purple and pink though because it so happens that the Yummy Plummy I chose is a miss for me. It is just that kind of purple that turns me ashy. However, I know all along that I can't wear purple eyeshadows. I bought Yummy Plummy as a cheap way to experiment with purple lips. For all I know, I may just find a suitable purple, but I didn't. Better than buying a high-end purple only to find out I can't wear purple lips.
Hooked On Pink is a raved shade of pink, but it didn't flatter me well either, the way I see it on myself.
And the much awaited wear on lips!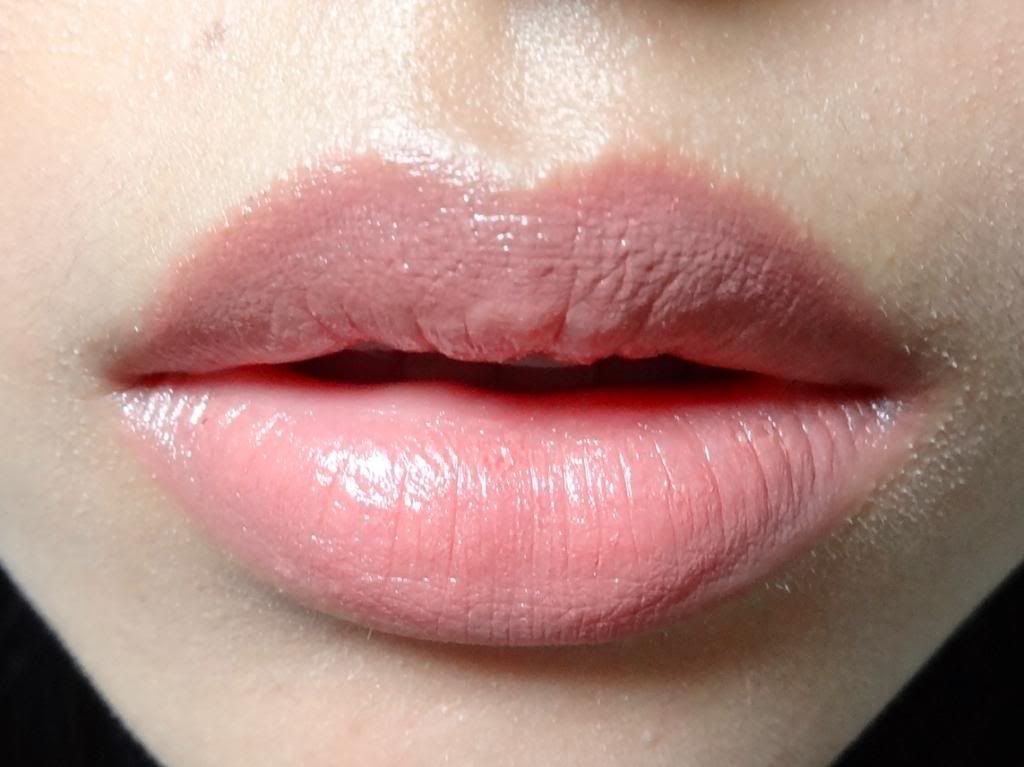 215 Totally Toffee. Gosh, it reminds me of my YSL Rouge Volupte #26.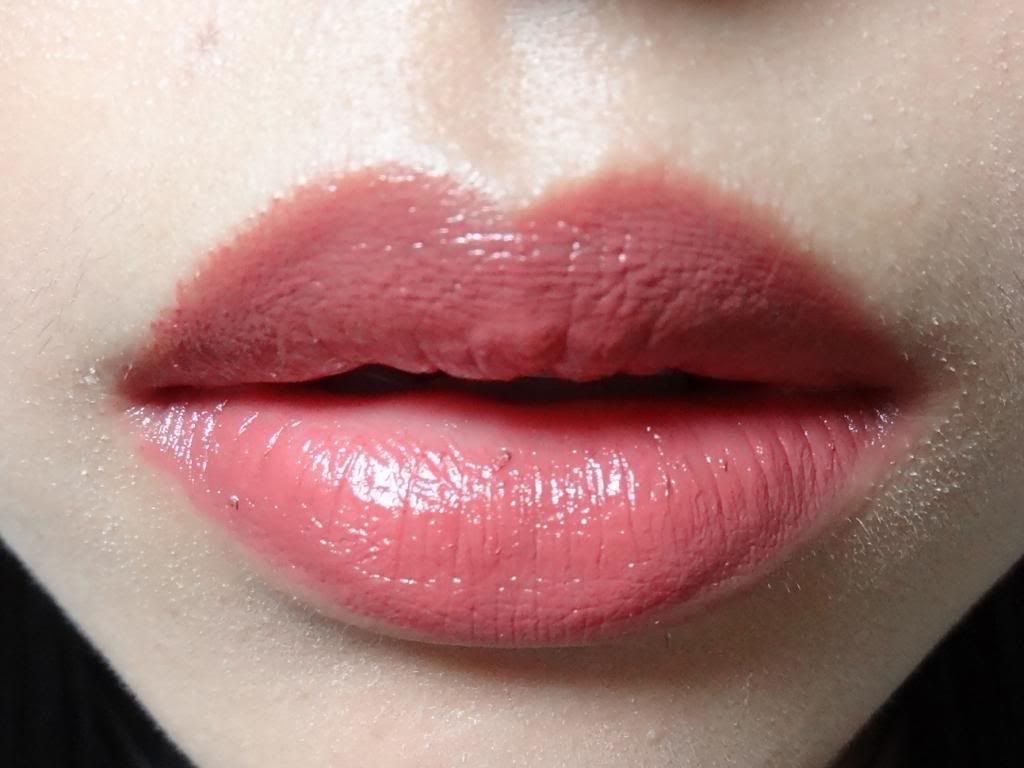 275 Crazy for Coffee. An brown that I've never expected will flatter me, but it does.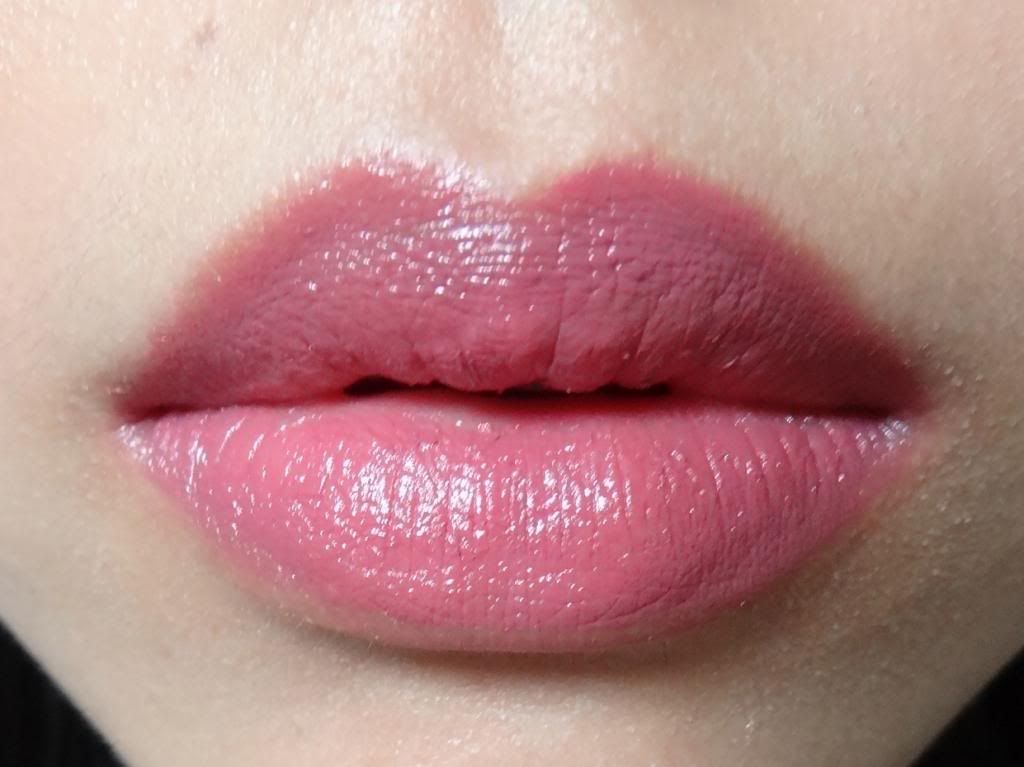 405 Yummy Plummy. I chose the lightest of purples because I am quite afraid of purples on my face. Still think it looks ashy and not as flattering as all the other colours I own, though this photo shows it as more of a pastel dusty rose pink.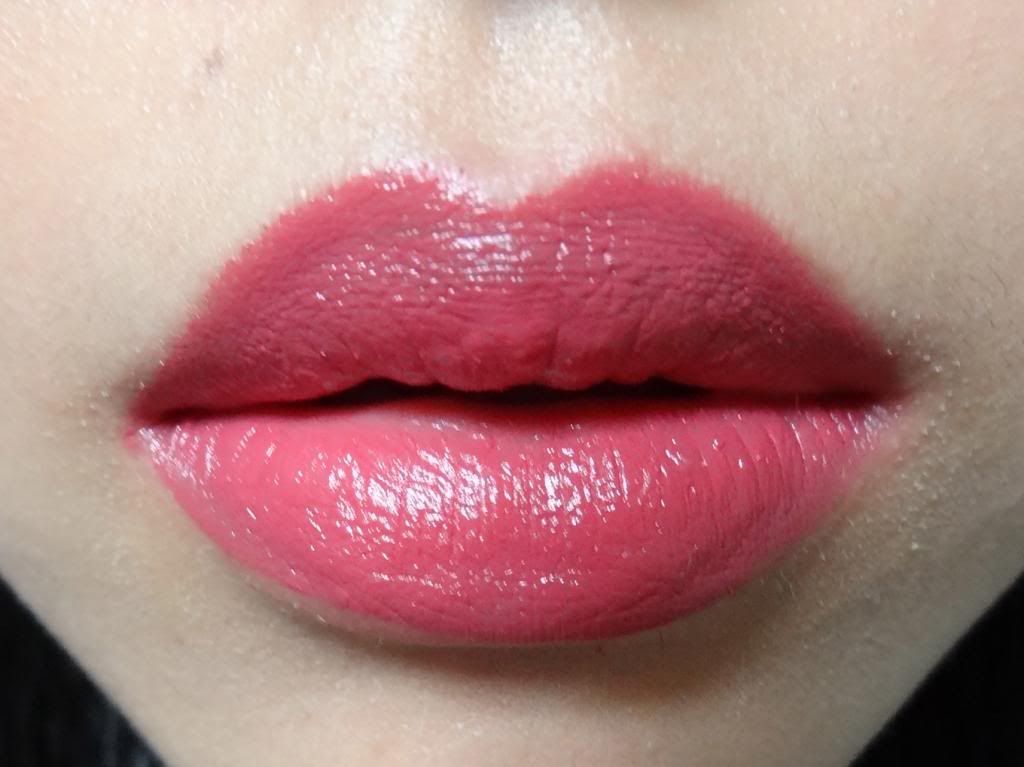 065 Hooked on Pink. The one that people on the internet seem to like best. I guess it is because this is a neutral sort of pink.
645 Red Revival. Incredibly flattering red for me even though it is blue-toned. This is my idea of straight up red red.
RP41 Red Porcelain. Newest, may be Limited Edition. I'd say, GRAB THIS!! Classic porcelain doll red. A steal to find doll-red in the drugstore.
I honestly think the two reds look similar. Can't quite tell which is which. So I wiped off half of Red Porcelain and wore back Red Revival, in a bid to show you that they are different enough.
On your left half is Red Revival, and on your right half is Red Porcelain.
See the difference?
Think it is more obvious in the one-swipe-swatch photo. Red Revival is comparative more berry, darker in layman's terms. Red Porcelain is brighter, definitely more orange.
PS: Lips tearing and cracking after wiping off so many times. haha, I failed to do this post the first time because I didn't clean properly, and left colour stains on my lips, as all the lipsticks (even the brown one) left stain. This is my second attempt to demonstrate the products on lips, and I am so glad I think it's a success. I really rubbed hard to get everything off. Didn't want to photograph on different days as I want to keep lighting the same. I was careful to line up the colours from light to dark. haha, or else I might have gone crazy trying to remove those reds.
Verdict on the Collection
I really think Maybelline has done a great job on the Colour Sensational line, and I wish more people would check it out and rave about it. The range is complete, with equal number of browns/nudes, pinks, purples, and reds, and the variety of tones in each colour section is comprehensive, from light tone to dark tone.
The colours seem to be generally neutral as well, although Yummy Plummy is one that I think is too cool for warm skin people. I am very glad that the browns/nudes are not cool to the point that I can't wear, because browns/nudes have a great tendency to fall on cool tone.
Quality, really is undeniably good. Maybelline has come a long way perfecting the moisturising/nourishing lipstick YET still maintain the creamy, rich, and long-wear properties. I can safely say so because I have a lot of those blue tube moisturising lipsticks, and also the old
Colour Sensational Moisture Extreme Lipcolour
line. You can tell that I couldn't be bothered to buy more than two of the old Moisture Extreme one because it really wasn't that good (I rated 3.8/5).
If you are looking for comparison between Maybelline Colour Sensational and Revlon Super Lustrous, I'd say the Colour Sensational is slightly more moisturising, while Super Lustrous tends to be creamier, heavier, more opaque. Both are equally pigmented and buildable. Colour Sensational probably loses (in the eyes of many people) because the range is basic, whereas Super Lustrous is more advanced with colours. In my opinion, the two lines are made for slightly different markets, with Colour Sensational for true and pure beginners who just step into makeup. It is made with the intent of letting people try, and dare to fail. Super Lustrous is for a more mature makeup crowd who knows what they like already, and want to dive into what they like big time but at low cost.
As for L'oreal Colour Riche, it is hanging in between the sophisticated mature market and the beginner. You can tell that L'oreal is trying to "educate" girls on what colour is for what, but you never spot Revlon teaching people what to wear and how to wear it. Colour Riche's texture is more for experienced makeup people though, imo. No offence with the word "mature", it refers to makeup years, not actual age.
I love all of them!! haha. Trust me, I just haven't blogged about Colour Riche and Super Lustrous yet. I find no need to blog on Super Lustrous actually. Everybody knows how good it is. It's just Colour Riche and Colour Sensational that are kind of underrated.
Increased rating to

4.8/5!
Deducted points because I have taken into consideration how people may think the range is so kiddy and way too basic. Yet, this in itself is a pro because it allows people like myself who know what is best (rose colours) to venture into areas I traditionally hate (reds, purples, and browns), without busting the bank. I found successes in the reds and browns, so that increases the rating.