I have been trying to perfect the use of this palette for two months now, and I think I can finally use it properly, and so review it. First impressions were excellent, but I just wanted to confirm my feelings about it.
Illamasqua Neutral Palette
From bottom left clockwise, Stealth (matte white), Vintage (shimmer satin antinque gold), Obsidian (matte brown), Wolf (matte black)
Volume: 4 x 1.5g.
Star Properties: As on packaging below.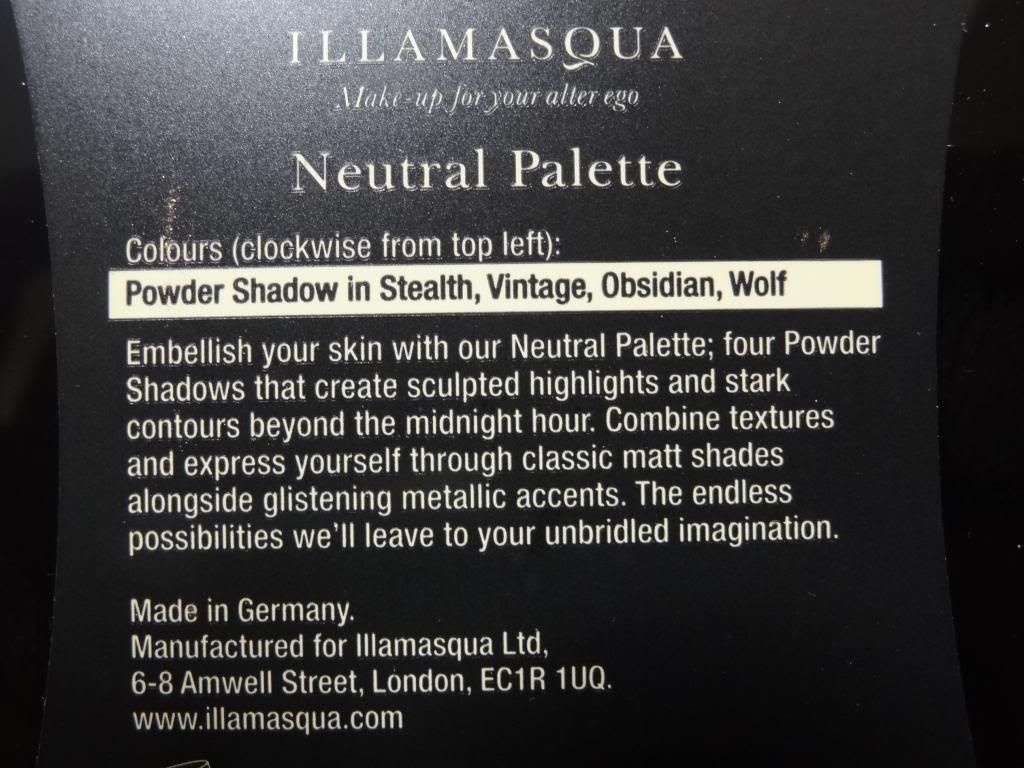 I swear by the "sculpted highlights and stark contours", and also the "combine textures", and "matt shades", "glistening metallic accents". Amazing.
Ingredients: As below.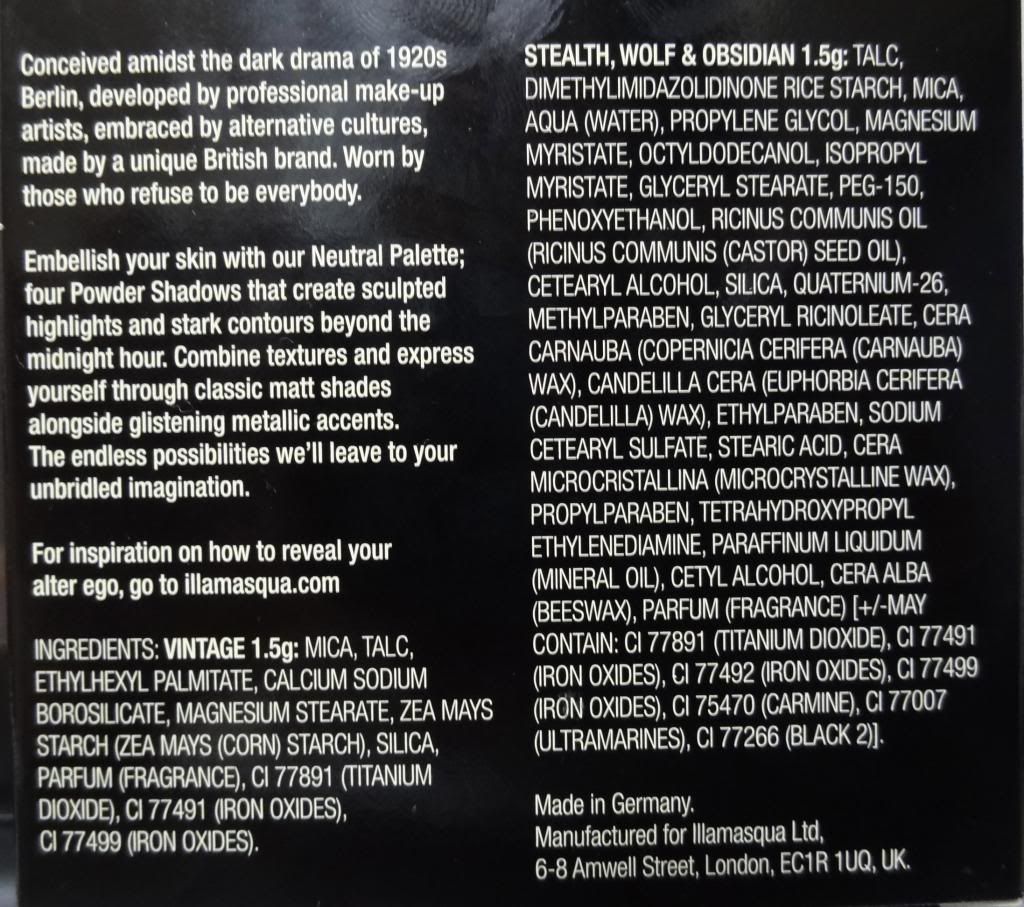 Packaging
This comes in classic glossy black box that is the coveted look by the likes of Tom Ford, Guerlain, and Chanel. Sorry for the fingerprints.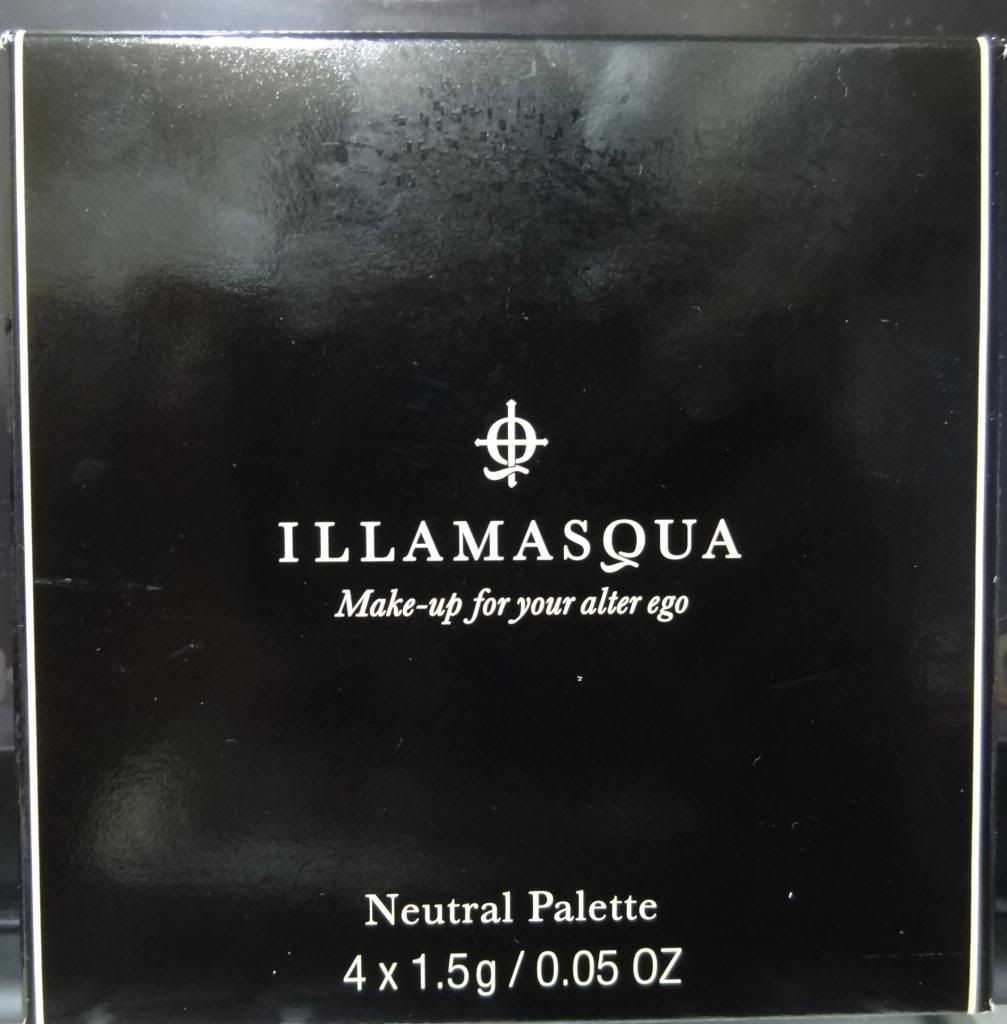 I like the tagline, "make-up for your alter ego".
The palette is a similar glossy black box, only plastic this time. It was surprisingly light in a bad way because I honestly expected much, much better from something that is considered high-end enough, and at 34 pounds. However, Tom Ford, Guerlain, and Chanel's palettes are all around 50 pounds, so I guess, the 16 pounds difference could be the difference in weight? If so, then money saved if you buy Illamasqua instead of Guerlain, which is insanely heavy.

No matter how, I still felt a little cheated because this is cheap plastic. Totally cheap plastic.
So I guess while I wouldn't want Illamasqua to increase its price to 50 pounds just because I like nice packaging, I think 34 pounds is too expensive for drugstore standard packaging, and the packaging does not lives up to the brand's name or price.
Opening
I think one of the most enjoyable parts of makeup, really is opening the product. And for this, Illamasqua palette gives a wonderful experience because you see that big Illamasqua word printed there when you want to open it. This is a feature that drugstore brands will not provide, but is very standard for brands like Burberry, and again, Guerlain.

However, it is unfortunate to announce that this click-lock makes nail polish chip, because you have to somehow push your finger, more like push your nails in that groove to pop it open. The only saving grace is that it pops open immediately, and doesn't takes centuries to ply like if you open the Sleek palettes.
Opens All The Way
The first thing I notice when opening a product is always how low the cover can go, because I really am quite iffy about half-way covers. I just find them inconvenient. But of course, this is very personal because it has got to do with how one uses a product in general, and openings do not affect the quality of the actual shadows. It just affects me because of the way I like to use the mirrors, the way I hold products and put brushes in, etc. So a half-way open product can get significantly less love from me because it makes my user-experience poorer.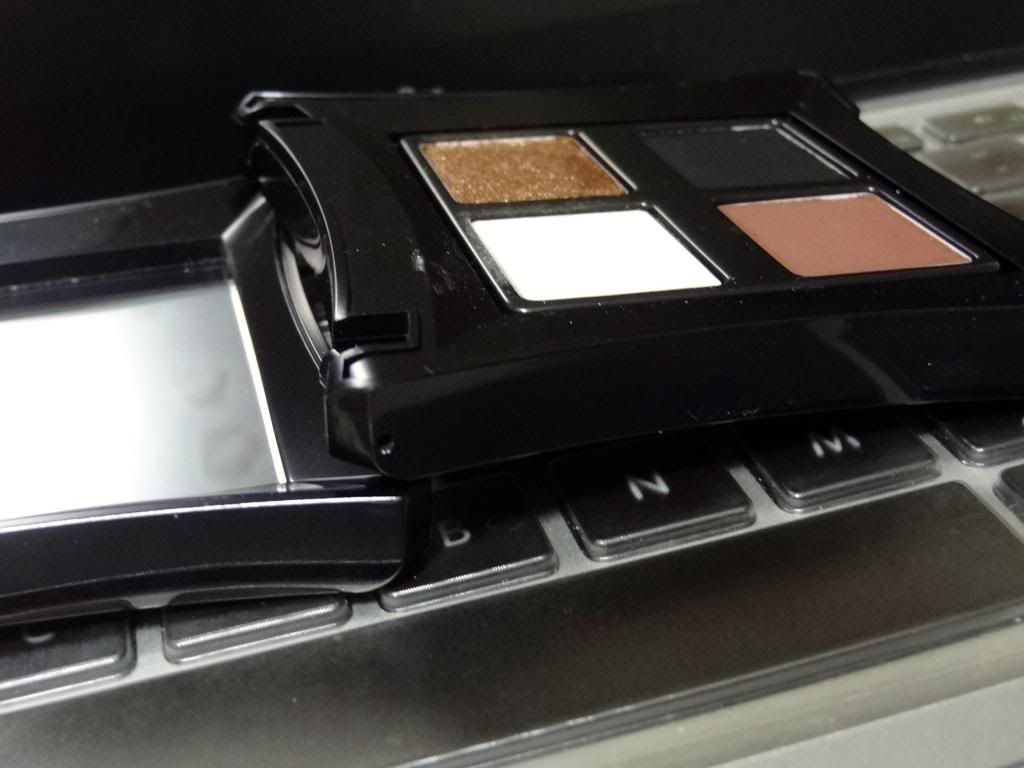 So yay for Illamasqua because it goes all the way down.
I wish the cover wouldn't open under though, because now you see the product can't sit flat on the table.
Lovely Mirror
Hehe, I love the huge mirror.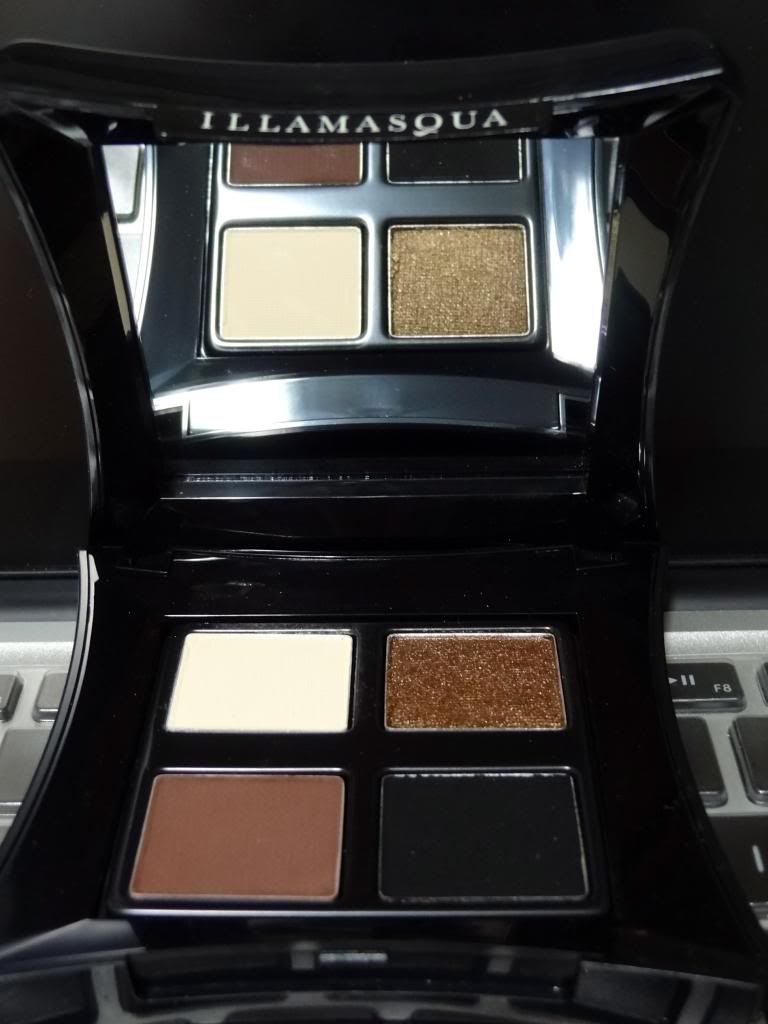 Colours and Swatches
I will repeat this picture for easy reference.
This picture really should be turned clockwise because the first colour is the white.
The colours are being swatched according to their order in the palette, so the matte white first, then vintage gold, reddish brown, and matte black.
From bottom left clockwise, Stealth (matte white), Vintage (shimmer satin antinque gold), Obsidian (matte brown), Wolf (matte black)
Beautiful, aren't they? The classic, very classic neutrals.
Quality and Pigmentation
Needless to say, these shadows live up to the hype that they are incredibly pigmented, soft enough to blend like a dream, yet hard enough to have no fallouts. Yes, even the black and gold do not fall out. The quality makes the 34 pounds worth it, I would say. Even some more expensive palettes do not guarantee thees kind of shadows.
To think I was so afraid they would disappoint.
How to Apply
This is something I took a while to correct because the colours are so pigmented I always seem to put too much.
At first, I almost wanted to hate this palette because I couldn't get the colours to work well on me. The black, white, and gold are good, especially since gold flatters my skin a lot, but the brown can really make my eyes look sleepy, muddy, and smaller (something happens if there is too much dark on the outer corners). I failed to use this properly so many times.
In the end, I realised that I only need one touch on the brown the black, just one touch of the brush, and it will carry all the way through 1/3 the eye, and up into the crease. There will even be enough left to carry under the eye, and then there is still excess. Ahh, Illamasqua is just too pigmented!
FOTD
This is what a good (I think) application looks like for daytime.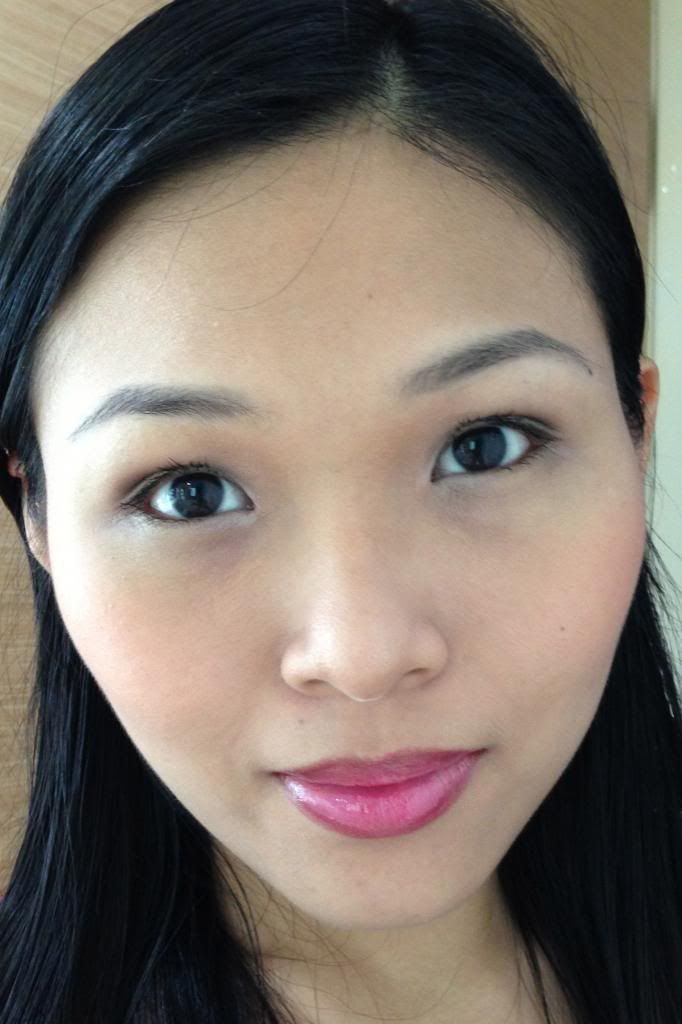 You can just see the darkness from the black and brown peeking slightly above the fold from my double eyelids.
And close up.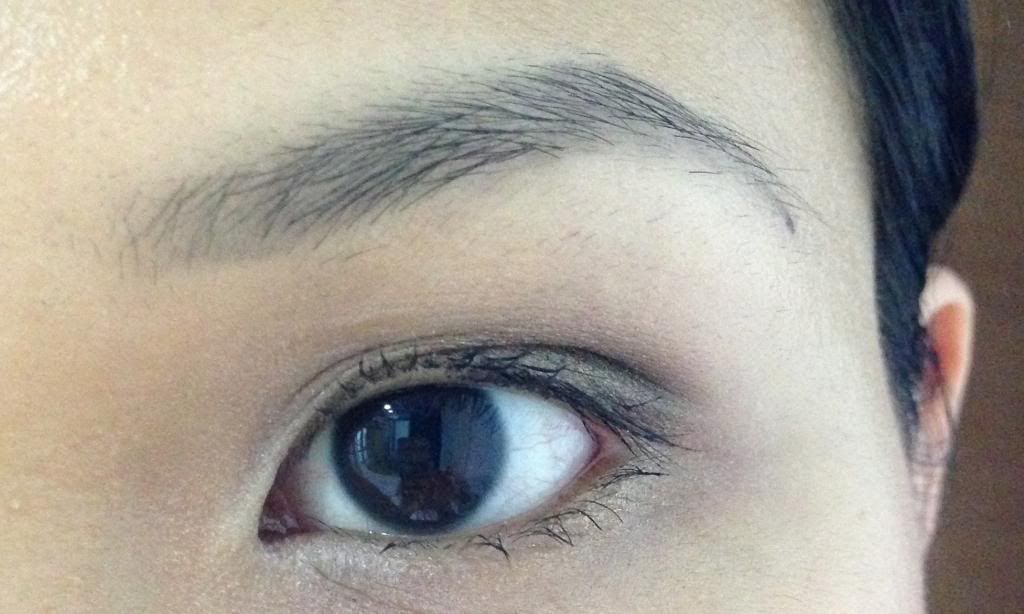 Stealth all over lid, tear duct area and brow bone. Vintage all over mobile lid only. Obsidian in outer corner and pulled 1/3 into crease. Wolf layered over in outer corner and pulled 1/3 along upper lash line. End off with Vintage on lower lash line and a bit more of Stealth on inner lower lash line.
For completeness, the rest of my FOTD are the cheeks and lips.
This is Illamasqua's cheek duo.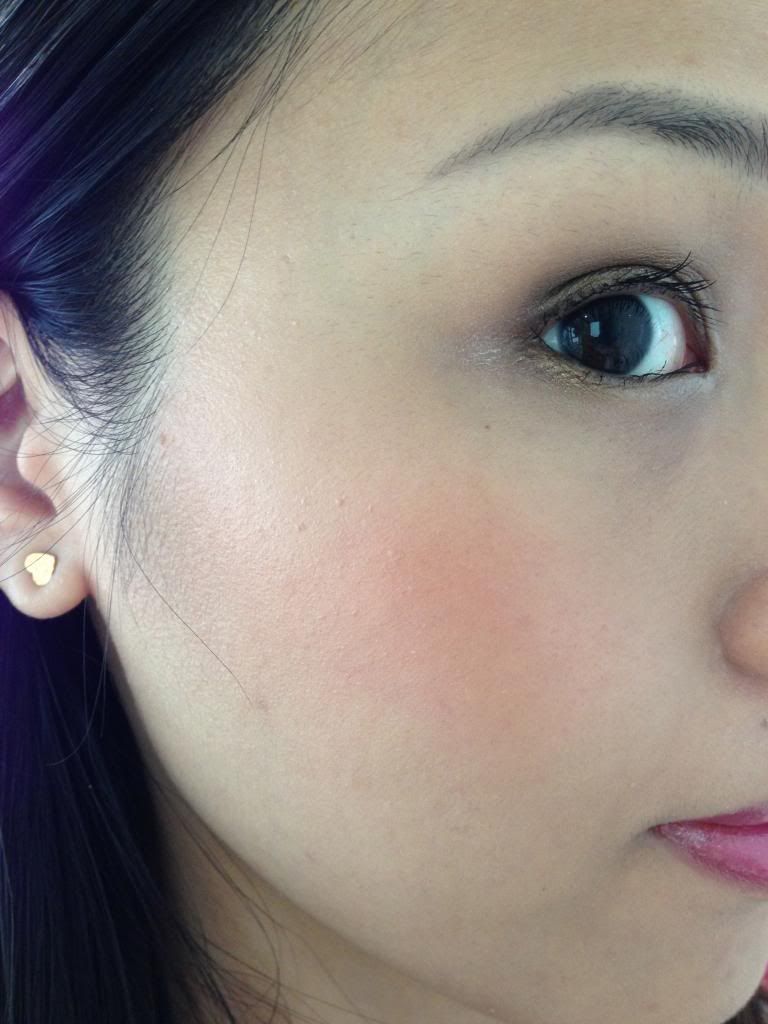 And this is Giorgio Armani's lipgloss in Pink 505. Such a pretty pink, I feel like I haven't used such nice pink for the longest time! I have been too much into neutral or red lips.
Repurchase
I do like Wolf a lot. It's a great eyeliner too. And if I ever run out of matte black, I would buy it in single. But probably not the whole palette since I think I wouldn't finish the rest.
Concluding Thoughts
It is not a must buy. If you own a lot of M.A.C, you probably already have your standard matte white, brown, and black. However, if you don't already have good quality matte shadows, then I'd surely recommend this!
I don't, I don't own Carbon by M.A.C, so when I saw the Illamasqua website, I was attracted to this palette because of Wolf. I can easily say that Wolf is so pigmented, so black, and so matte that it can give M.A.C Carbon run for the money. Definitely check Illamasqua out if you want a matte black.
I love the Vintage gold, love, love, love, love, love. My eye photo probably doesn't do justice to it because my camera battery was out, and I used my iPhone front camera. As claimed, it is a stunning glistening metallic shade that adds phenomenal amount of depth to the eye look, especially when placed over all the other three mattes. This palette is very well thought out.
I deduct points because I think while this is a neutral palette, it is not easy to figure out how to use. I took so long even though I am used to colours and blending. If you're a makeup artist, this will not be a problem. But since I am not, and I found it challenging, I think this pointer will help. If you're truly beginner, I think Japanese palettes are far, far, far easier (to not make mistakes), say Canmake, KATE, or DHC. I had expected a neutral palette to be easy.
Also, I am still mulling over the fact that the packaging is more $2 than $70. So yes, although quality of shadows do mitigate, I thought this palette could be say 25 pounds ($50)?
Do you own any Illamasqua products? Do you like them?