I raved about the Make Up For Ever Kabuki Brush recently in the
MUFE HD Powder
post, but I still feel like I really need to post about this powder brush, because I have been using it for this whole year to apply loose powder right up until I got the MUFE powder. And I really love this brush, for many reasons.
Bdellium Tools Yellow Bamboo 959 Mineral Powder Brush (All Synthetic)
Available: Bdellium Tools website.
Volume: One round top kabuki brush.
Star Properties: All synthetic, professional anti-bacterial, form fits function brush.
Quick Comment:
This would have been in my Top 12 of 2012 if I were not using MUFE HD Powder right now. This is more a staple kind of brush that I would reach for to apply any powder. I must admit that one of the biggest reason I use the MUFE Kabuki is because it is made by the same company specifically for the HD Powder.
You would have seen this being photographed in some of my FOTDs this past year.
Packaging
This brush came in a set, and the set was packed in an eco-friendly soft clear plastic tube. It is much less glamourous than Sigma's packaging, but it doesn't bothers me because I tend to throw away brush packaging. Unless of course, the packaging is a made-to-fit brush case, like those Real Techniques nylon stands, then I will keep it.
Buying Point
Don't you just adore the bright and cheerful yellow? I do, and I do big time because yellow is one of my favourite colours after white and pink. Yellow makes my day more cheerful.
Bdellium Tools have green bamboo too, and the green is a calming grass green. Simply lovely.
Of course also, Bdellium Tools promises that their brushes are anti-bacterial and are cut for professionals.
And these are considered cheap.
Make - The handle and barrel.
Perfect.
The Bdellium Tools brush handle feel wooden yet weighty, a sign that it is bamboo I guess. The circumference of the handle is just right and the barrel is a sparkling silver. For some reason, this silver looks brighter than those M.A.C ones.
Bristles
Cut to perfection.
And very dense, yet still luxuriously soft and fluffy, as you can see below.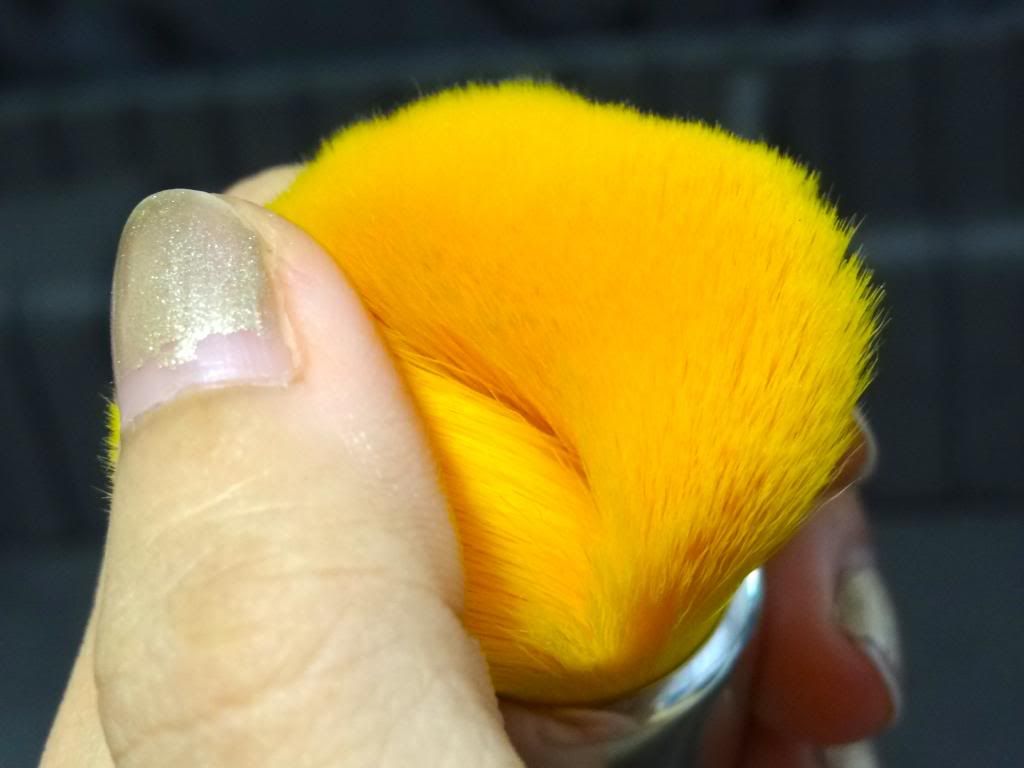 It reminds me a lot of the MUFE Kabuki brush! Except of course, the MUFE Kabuki is larger at the base and holds more bristles. Essentially, this means that the 959 applies powder at a slower rate than the MUFE. With the 959, I normally divide my face into 6-8 areas, but I can cover my entire face with just 4 areas using the MUFE (both cheeks, one forehead, and one chin). This is by virtue that a small brush picks up less powder at once and a big brush picks up more powder at once.

It is not about which has better quality because they are both so perfect. I can reach for either one of them, and I'd still get the same results on my face. This 959 is like the little sister version of the MUFE Kabuki, I would say.
Just the Right Amount in Just the Right Place
When I started using this brush for my loose powder instead of those puffs that comes with the powder tub, I was blown off because this 959 completely changes the way powder looks on me.
My loose powder no longer looks patchy, heavier in some areas, and lighter at some. Very often, to ensure the powder looks even, I had to pat on a lot of powder, and because I was not using translucent powder back then (still on SANA and Nature Republic), the extra powder caused me to look whiter than I am. I had people telling me I look like ghost or opera singer, and that didn't feel good.
Perfect professional brushes like this 959 allows me to deposit powder lightly yet cover all areas.
I am not saying puffs are not good. A lot of professional makeup artists still use puffs or else Laura Mercier and e.l.f wouldn't make them. But I am obviously not a professional! hahaha. So a great brush goes a long way to aid the common person like me.
Final call,

6/5!
I wish I've found this earlier. Everything about it is right. It is all of the following,
i) gorgeous yellow that perks me up,
ii) great weight in the hand,
iii) well thought length of both handle and bristles,
iv) bristles are incredibly well cut, stiff and dense enough yet so luxuriously fluffy,
v) anti-bacterial,
vi) professional, and last but definitely not least,
vii) true value for money (don't believe? check out the website! =D).