wow, it's been so long since I reviewed anything. This time, I managed to lose the USB connector for my handphone... =( And I officially lost every piece of music and photo in my handphone because it is unable to detect the phone's hard drive.
OXY/Acnes UV Tinted Protector
(Mentholatum sells it under OXY in Malaysia, and ACNES in Singapore.)
Available: Carrefour Malaysia, Watsons Singapore, etc
Star Properties: UV Protection, prevents blemishes, oil control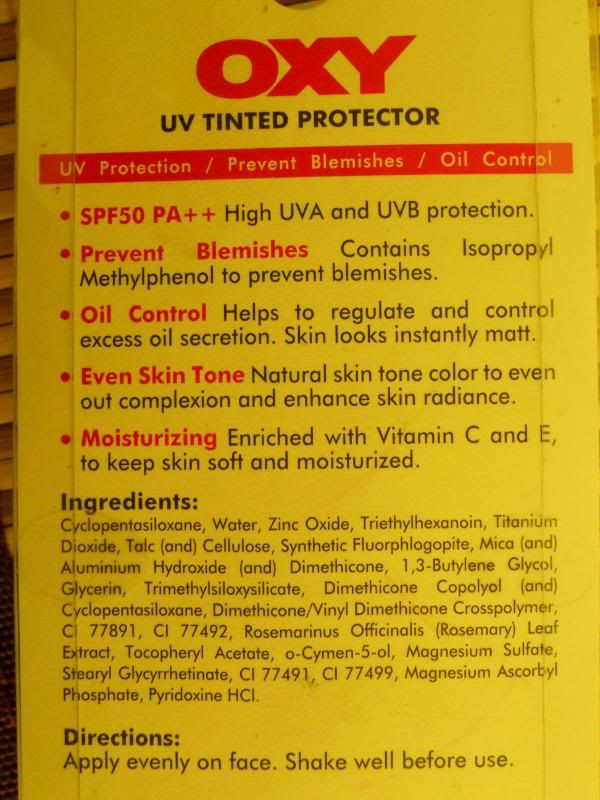 Packaging & Dispense
Really good! haha, I've been quite happy with Mentholatum's packaging in general, including the Men's line. This UV protector comes in a small bottle with the typical drip tip that Japanese sunscreens such as Biore and Sunplay has. Small, and good to keep in the bag if you like to reapply.
Viscosity
I actually like the flow of this mixture so much more than others because it is thicker. This is probably due to the high silicone content, since cyclopentasiloxane is the first ingredient.
Tinted + Even Skin Tone
I like the fact that this is a tinted sunscreen because I do not put foundation. This is a very good base and really does make my face more porcelain. It does what it promises. =)
No Skin Irritation
I highly suspect I am allergic to cyclomethicone, but it does seems that my skin feels alright with cyclopentasiloxane. Like many other girls, I tend to break out if the moisturizer or blusher etc comes with a high level of cyclomethicone, normally in the top three, but not this one.
Oil Control
To be honest, I don't have oily skin to begin with. But my SO, who is very into this as well, likes it a lot. He has oily skin, and he has repurchased more than 5 bottles already. I am just "stealing" one of them. haha.
But for one thing, I am actually surprised that it did not dry me out. I have tried the other ACNES products, like toner, face wash and moisturizer. All of them are too dry for me.
Ingredient Concern
Zinc Oxide and Titanium Dioxide are within the top five on the list. But if you know you are really, really allergic to silicone, talc, mica etc, I don't think it'd be wise to use this.
However, I have read a number of good reviews about this, and non-extreme cases like mine, should have no problem.
Holy Grail
I wouldn't say this is my HG sunscreen yet, because in terms of ingredients, I have another favourite (not yet reviewed). But this is by the best foundation sunscreen I've ever used!
Rating:
4.8/5
Slight concern over ingredients. But otherwise, rave-worthy sunscreen. =)