The Lush Ultra Bland was bought because I stumbled upon it and found the idea of an all-oil cleanser intriguing. The fact that it is made of all natural ingredients save for a couple of preservatives, also appealed to me. Now, it's time for the review!
LUSH Ultra Bland - The most thorough of all cleansers
You may actually read what's on the cover.
Packaging
The Lush Ultra Bland comes in a very functional pot just slightly smaller than my palm, and has a twist-to-open cover. The design is Lush's signature semi-matte black, with their sticker on the top and bottom of the tub. The sticker on top appeals to me because it shows the product description and also instructions for use. The sticker underneath shows the ingredients and has the "face" of the person who made it. These help Lush to achieve a very authentic and pure feel, which I enjoy.
You can bring back 5 of such Lush pots to exchange for a free Fresh Face Mask.
Product Texture
The ultra blend is a white, rather solid cleanser that will flow nowhere no matter how long you leave it standing. On the face, it requires a significant amount of effort to spread to all nooks and crannies of the face.
This is a very useful feature for travel as the pot and texture are both very safe regardless of how the product is being thrown around in your luggage.
For home usage, it is not my favourite, since I prefer cleansers that flow and spread more easily. It is more time-saving compared to trying to rub and work a waxy solid over the face.
Almost finished!
Effectiveness
The large amount of almond oil in this cleanser helps to dissolve makeup effectively. It is best used on light makeup, as it will not remove strong waterproof/smudgeproof eyeliner, mascara, or red lipsticks.
To get the most out of this, you also need to use a good face towel (I got a micro fibre towel from Daiso) soaked with hot water, to scrub and wipe the cleanser off your face. I find this process very draining and takes up extra effort. So I only use this cleanser at night, when I have more time, and also on days on which I also want a scrub/ gentle exfoliation.
It is quite a shame that such a good cleanser needs that much extra effort to maintain.
Sensitive Skin
It should not be a problem for people with sensitive skin. Unless of course, you are allergic to almond oil in particular. Do check out the ingredients list in the photo below!
There are parabens in this product. The amount is enough to preserve this product until now. It is supposed to expire in Feb 2013, but I kept it sealed until about June 2014. And it is still okay, no changes in texture or smell.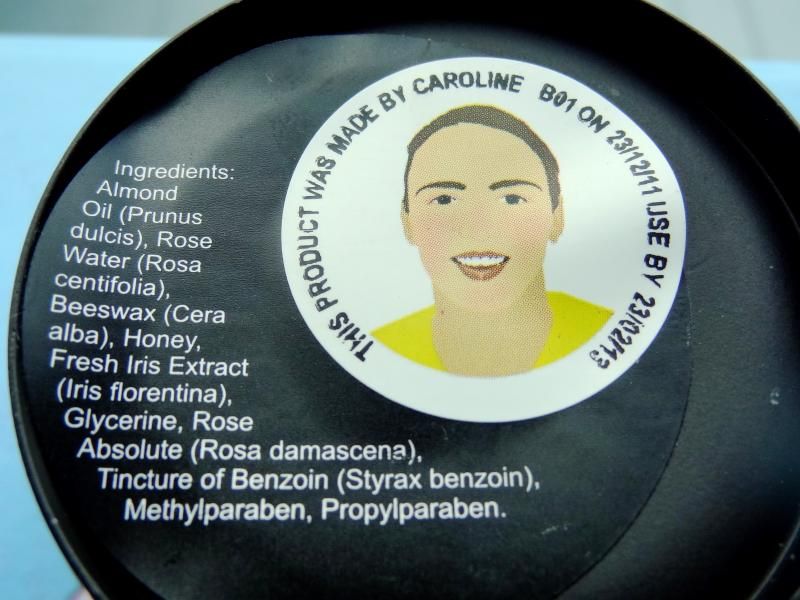 Cost
This is rather expensive. The 45g lasts me about 2-3 months if I use every night.
Rating:

4/5.
Lush has done a good job coming out with an almost au naturel cleanser that is great for sensitive skin, and doubles up as a makeup remover. However, I find it takes up too much effort daily and I also find the cost a little high to maintain, especially since cleansers are used at least twice a day, and will run down quickly. I will not repurchase as I have no real need for it.
For those who have the
Lush Helping Hands cream
, this is basically a much thicker version.